Telecom Expense Management
For Sakon, telecom expense management (TEM) is an evolving discipline dedicated to understanding, controlling, and reducing an enterprise's communications spend. Initially, TEM solutions focused on fixed-line networks, grew to incorporate mobile, and today are expanding into lifecycle management, device management, and other technology spend categories (including the cloud, IoT, and SaaS).
Gartner's Take: TEM Changing with the Times
In the 12 months leading up to October 2021, in the client inquiries that Gartner analysts have taken on the subject of TEM, it is evident that the main benefits sought from TEM providers are: Improved business process outcomes; Better visibility and control of assets; Ensuring asset performance; Naturally reduced cost for the communications services under management.
During the height of the pandemic, buying cycles for TEM were long, especially for larger deals, which often took from nine to 12 months. Since then, cycles have shortened somewhat, but prospective buyers are still carefully considering the business case.
Large domestic, regional and multinational enterprises are investing in TEM services. A key reason is that many enterprises struggle to control their communications service spend, which is forecast to represent 36% of global end-user spending on IT products and services in 2021 of just over $4 trillion.
Source: Gartner, "Market Guide for Telecom Expense Management Services," December 22, 2021 (Analysts: Katja Ruud, Lisa Unden-Farboud, Pablo Arriandiaga)
Three Keys to Flawless TEM
Synkronize™
The foundation of the Sakon Platform for Telecom Expense Management, Enterprise Mobility, and SaaS Management is Synkronize, the company's breakthrough inventory engine. Most enterprise TEM efforts fall flat because they lack an accurate, exhaustive, living inventory of network and end-user inventory. Synkronize solves that!
3-Way Match™
Don't be fooled. While others claim "invoice validation," Sakon uses its proprietary 3-Way Match technology to validate monthly invoices against contractual terms and network and device inventory to ensure companies only pay what they really owe, saving millions.
All-Star Services
Sakon's award-winning services team, a group specializing in applying Sakon's advanced technology, is your assurance that an investment in the Sakon Platform for Telecom Expense Management will drive substantial returns.
Learn more about Services >
Is it Telecom or
Technology
Expense Management?
THE EVOLUTION OF TEM
While the "telecom" in telecom expense management is still relevant – it is not unusual for large global companies to spend more than $100 million annually on telecom services – the term no longer adequately represents the scope of what the enterprise needs TEM solutions to control, namely "technology" expense management.
Sakon, a leader in traditional telecom expense management solutions since 2003, is now the standard bearer of the new TEM, technology expense management.
DRIVING SAVINGS WITH TEM
The Sakon Platform for Technology Expense Management, spanning TEM, mobility, and SaaS, provides a single system for IT and other enterprise decision makers to know and manage their networks, reducing costs by an average of 5% and as much as 10%. These savings are being reinvested by forward-thinking companies to transform their networks and businesses, driving even more savings and performance.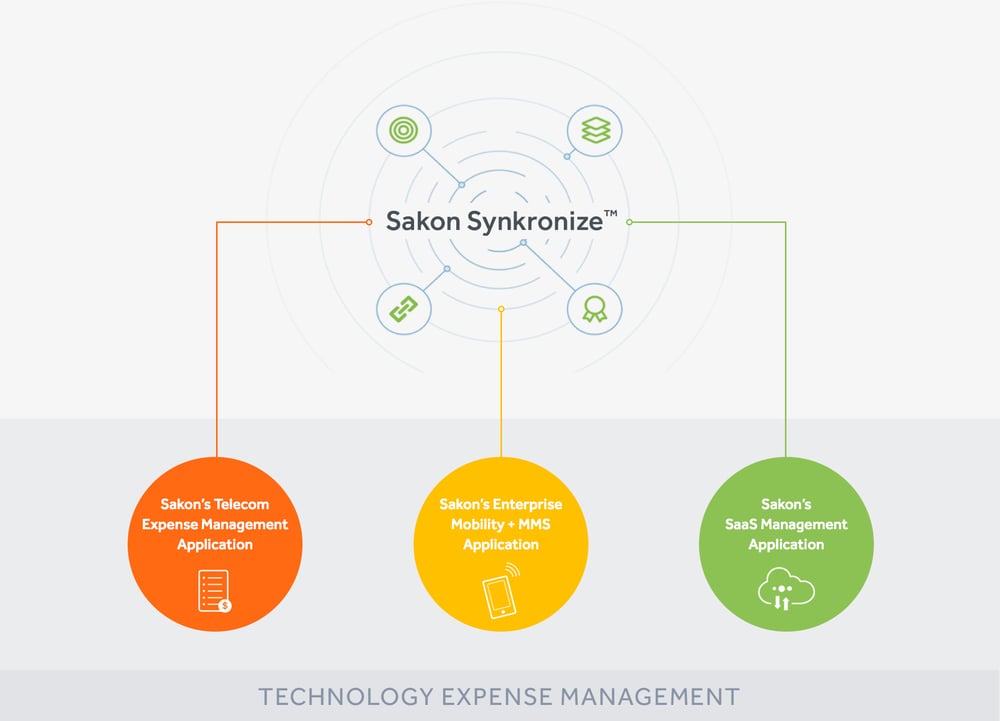 Sakon Technology Expense Management
When the "T" Stands for Technology
Sakon's Technology Expense Management solutions leverage all of the invoice processing, validation, payment and allocation capabilities resident in the Sakon Telecom Expense Management solution, applying them – and added features – to both reduce the expense and complexity associated with managing telecom, enterprise mobility and SaaS initiatives, and enhance the end-user experience of these productivity-enhancing technologies.