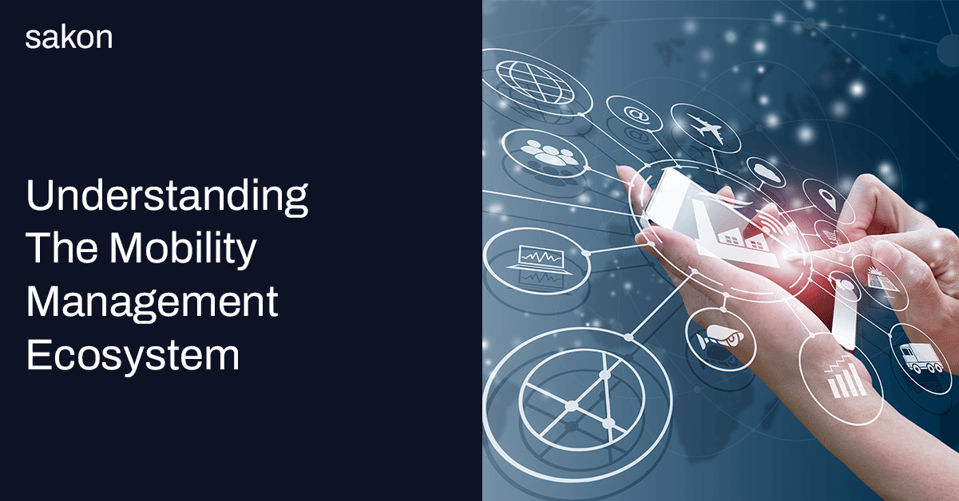 THE MOBILITY MANAGEMENT ECOSYSTEM
A mobility management ecosystem is composed of a variety of technologies, processes, people, and devices that work in unison to enable organizational success. As enterprises grow in size and complexity, and mobile devices are embedded within everyday business processes, this ecosystem becomes critical to employee productivity and connectivity. Thus, the objective of any internal IT team or management partner should be to create an employee-centric mobility experience that integrates all technologies and services into one cohesive system.
Many organizations struggle with tackling mobility management holistically and identifying gaps in their current programs. This is generally because most businesses, even some of the largest in the world, do not fully understand how the different elements of their ecosystem interact. In this piece, we will break down the mobility ecosystem and uncover the most common challenges organizations face when building or scaling their infrastructure. We hope that by providing more visibility into enterprise mobility as a whole, organizations will be better equipped to critically assess their current strategy and begin making improvements that will reduce costs and positively impact employee efficiency across all business units.
Devices such as smartphones, tablets, laptops, and IoT are at the heart of the modern mobility management ecosystem. The past decade has brought a massive influx of mobile technology into the workplace, with many employees either working remotely or otherwise using mobile devices for work purposes. According to Dell, 60% of modern professionals use smartphones for work, and 45% say that mobile devices increase their overall business productivity. Not only are these devices taking over the workplace, they are also blurring the line between professional and private lives. Even the simple act of responding to a work email on your smartphone on your way home or before bed contributes to a culture of constant connectivity. In this modern digital workplace, effective mobile device management has become a business necessity.
All mobile devices go through a lifecycle, from configuration, to repair, and ultimately to retirement and recycling.
Mobile device management (MDM) (otherwise known as unified endpoint management or UEM) belongs to the "security" phase of the device lifecycle and can be described as the process of monitoring, managing, and securing employees' devices across multiple service providers and operating systems. MDM includes deciding which applications can be installed on employee devices, how devices can be located, and securing them when they are lost or stolen. Many organizations rely on their IT department to integrate mobile devices into corporate structures and workflows. When done by hand, this is generally a tedious and time-consuming process that is riddled with errors. It is incredibly difficult for internal teams to track and secure hundreds, if not thousands, of mobile devices across geographical locations in order to maximize employee productivity, all while keeping the enterprise safe from cyber attacks.
To achieve all of these necessary functions can be a monumental undertaking. It is incredibly challenging to manage corporate data scattered across different devices, operating systems, and repositories. Luckily, MDM software can be used to automate and enforce compliance policies in the modern workplace. Before you even begin building or expanding your mobility ecosystem, invest in a comprehensive MDM suite to enable data visualization, assessment, and compliance.
Depending on the solution your organization chooses, MDM can include device security capabilities such as remote IT access, location tracking, and data wiping. Remote management is perhaps one of the most obvious advantages of MDM, because it allows your IT staff to quickly disable unauthorized users or applications and delete confidential information from any device. MDM software is particularly valuable for organizations that operate under a bring-your-own-device (BYOD) model (which will be discussed in more detail in an upcoming section), because it plugs personal employee devices into the corporate ecosystem, enabling increased productivity without compromising security.
By applying a singular compliance model across the enterprise and managing devices on a singular platform, MDM software also automates otherwise manual tasks for your IT department and eliminates routine device setup, allowing your team to focus on core business objectives instead of time-consuming compliance tasks.
Evaluate Your Mobility Ecosystem:
What MDM software is your organization currently using?
How easy is it to use?
How effective is it in securing your employees' devices and providing remote IT access controls?
Are you leveraging data to reconcile and build accurate inventory?
Mobile applications are computer programs or software applications installed on mobile devices, such as email, expense trackers, enterprise resource planning (ERP) systems, and customer relationship management (CRM) solutions. Mobile application management (MAM) is the process of provisioning and controlling access to these mobile apps, and also belongs to the "security" phase of the device lifecycle. A common misconception among enterprises is that MDM and MAM are interchangeable, or that MDM encompasses MAM. It is important to note that managing devices is very different from managing applications, and MDM alone is only sufficient when employees use their devices exclusively for work-related matters, which is rarely the case. While many businesses restrict corporate devices to work-related activities through company policies, many employees will still attempt to use these devices for personal matters on work breaks or during travel. This situation may seem innocuous, but depending on the websites or applications employees access, this can compromise device security. MDM provides device-level functionality, and does not allow you to track and control the data within individual applications. Although it may make sense from a cost perspective to focus on one over the other, depending on your organizational structure and the nature of the data on employee devices, most organizations need both MDM and MAM in order to adequately secure mobile devices.
Even those organizations that recognize the unique importance of mobile application management often fail to implement it correctly. Many organizations struggle with preserving user privacy, protecting corporate data across mobile apps, and reducing application maintenance burdens for their IT department. While business applications should absolutely be tracked and monitored in order to protect confidential information, private employee data on mobile devices, such as conversations with family members on Whatsapp, should be free from corporate interference. This is a thin line to walk, and organizations often struggle with segregating personal applications from business applications, particularly on employee-owned devices, in the absence of MAM software. Even if your organization is operating under a corporate-liable model, your employees are likely to install recreational applications on their phones that contain personal data. Furthermore, mobile application management becomes particularly complex and challenging for organizations that require different departments to have access to different applications. IT departments typically bear the brunt of this structural complexity, forced to undertake time-consuming, manual tasks to ensure consistency across business units. For example, certain apps require a multitude of settings to be configured before usage, which is typically a cumbersome administrative process.
MAM software is used to automate user protection and data compliance, and provides your IT department with a powerful set of granular controls to secure application data. To begin, the software automates application installation, configuration, optimization, and deletion, eliminating unnecessary tasks for your internal team. MAM lets organizations pre-configure basic settings, permissions, and restrictions on corporate apps, reducing the need for human intervention. The software then "wraps" your employees' applications in a layer of code that enables your team to monitor and govern the data within them remotely. MAM software also provides "application sandboxing" or "containerization" functionality, which means isolating corporate applications from other applications on the mobile device. For example, your employees' phones will likely contain business applications such as SalesForce, as well as recreational applications such as Messenger, which creates the opportunity for data leaks and malware. By separating work and play, your IT department respects employee privacy while keeping a close eye on corporate data.
Not only does MAM protect your organization, but it allows your IT team to focus on more important tasks than application maintenance.
Evaluate Your Mobility Ecosystem:
Is your organization taking advantage of the solutions available to segregate and secure mobile applications?
What types of data exist on your employees' devices, both professional and personal?
The term "device ownership model" refers to corporate policies surrounding the procurement and use of mobile devices for business purposes. There are several device ownership models for organizations to choose from, each with their own challenges and complexities.
The Corporate-Liable Model
The corporate-liable model, in which the enterprise owns the devices and assigns them to users, is the most traditional approach to mobility management. This model is relatively straightforward from a management perspective and can be considered an employee benefit. In this scenario, the organization's internal IT team is responsible for purchasing the devices, supporting them throughout their lifecycle, ordering new ones, and managing plans, usage, and payments. As a result, this model requires high human capital expenditure and comes with a variety of challenges such as high device and administrative costs due to a lack of carrier relationships and slow device management processes. Many organizations have found that this legacy approach is proving expensive, inflexible, and unwieldy to meet the new demands of modern mobility.
The Bring-Your-Own-Device (BYOD) Model
The Bring-Your-Own-Device (BYOD) model, which became an industry staple thanks to the first wave of iPhones entering the workforce, allows employees to use their personal devices in the workplace. Organizations love the idea of BYOD due to the reduced capital expenditure required, but managing this heterogenous device fleet is another matter. Key challenges include program administration, particularly related to stipend management and mobile reimbursement, as well as policy compliance and security regulations.
The Hybrid Model
Hybrid mobility refers to managing corporate-liable and BYOD devices concurrently at scale in order to provide maximum mobility flexibility to employees. Hybridity is generally preferred by employees, because it provides them with the most options. However, this device ownership model is particularly complex because it combines the challenges listed above.
The Mobile Devices as a Service Model
For organizations looking to outsource mobility management completely in order to minimize costs and avoid handling administrative tasks altogether, mobile device as a service (MDaaS) is a recent development that provides organizations with all the device lifecycle management services required through one vendor and one monthly bill. This device ownership model also allows enterprises to scale their mobility ecosystem up or down depending on need. However, many organizations struggle with finding the right MDaaS partner that understands their mobility objectives and provides full transparency into costs and management processes.
Now that you understand the different options out there, think critically about your current device ownership model. For many organizations, the solution to most of these challenges comes in the form of an experienced mobility management provider that understands your pain points and can create an efficient ecosystem no matter your desired ownership model.
Evaluate Your Mobility Ecosystem:
What are your primary goals and concerns?
What challenges are you facing?
Is your internal team strained?
Are your employees frustrated?
Are you struggling to keep track of mobile devices?
Do you have visibility into utilization across business units and employees?

Mobile carriers, such as AT&T and Verizon, are wireless service providers that supply cellular connectivity services to mobile devices. Depending on your organization's chosen device ownership model and mobility management partner, you may need to deal with mobile carriers and networks in order to provide coverage to your employees. Finding the right carrier for you is going to depend on your budget, desired wireless speed, and the geographic region that your business operates in.
It may seem simple enough to choose a mobile carrier, particularly given the limited options available. Smaller organizations, or organizations operating within a single geography either in the United States or abroad, may be able to handle contract and service negotiations internally. However, most enterprises struggle with optimizing monthly service costs due to a lack of relationships or negotiating power with carriers. They are stuck paying millions of dollars in unnecessary fees and billing errors. This is especially true for organizations operating under a BYOD or hybrid mobility model, which often involves working with multiple carriers across multiple geographies. Keeping track of every device, every added or deleted line, and every carrier agreement connected to them is where most dollars are lost.
Choose an MSS provider that performs mobile optimization analyses on a monthly and quarterly basis in order to ensure the best plans are in place, appropriate international features are activated only when needed and device plans are shut off when not in use. Rely on your managed services team to submit requests to vendors, ensure the successful completion of the request, and track the resulting savings.
Evaluate Your Mobility Ecosystem:
When is the last time your organization renegotiated a contract or took a closer look at carrier service fees?
Enterprise platforms, such as HR management platforms and IT service management (ITSM), constitute an important element of enterprise mobility. Many organizations struggle with pulling inventory, billing, and usage data from a growing list of auxiliary systems in order to gain a truly holistic view of their mobility ecosystem and efficiently manage the end user's digital workplace. The importance of pulling key data sources and performing comparisons between HRIS, ITAM/SM, and MDM data is often overlooked and underestimated.
Find a mobility partner that has the technology to integrate auxiliary systems into your ecosystem. By connecting your HR system to your other MMS software, your organization will be able to better organize personnel files and optimize employee onboarding and offboarding workflows. For example, when an employee joins your organization, you'll be able to automatically start a workflow that sets them up with the devices and applications they need. Conversely, when an employee leaves your organization, your IT team will be able to easily shut off coverage or application charges to their account.
Evaluate Your Mobility Ecosystem:
Is your organization currently integrating MMS software with auxiliary systems?

How are you currently dealing with employee onboarding and offboarding from a mobility management perspective?
Telecom expense management (TEM) is an evolving discipline dedicated to understanding, controlling, and, ultimately, reducing an enterprise's communications spend. While the "telecom" in telecom expense management is still relevant (it is not unusual for large global companies to spend more than $100 million annually on telecom services), the term no longer adequately represents the scope of what the enterprise needs TEM solutions to control, namely "technology" expense management. TEM encompasses much more than just managing telecom bills and contracts.
Traditional TEM solutions initially focused on fixed-line networks, grew to incorporate mobile expenses and invoices, and today are expanding into other tech categories, such as the Internet of Things (IoT) and Software-as-a-Service (SaaS) initiatives. Most enterprise TEM efforts fall flat because they lack an accurate and exhaustive network and end-user inventory. Many organizations struggle with understanding and managing telecommunications costs, particularly under a hybrid mobility model, due to a lack of data visibility across platforms and systems, which prevents the creation of a central hub for inventory management.
TEM services provide organizations with the ability to order, provision, and manage the costs of large-scale corporate communications and associated IT services. It is important to automate invoice acquisition, validation, and payment of communication expenses to eliminate time-consuming tasks for your IT and Finance departments, drive significant cost savings, and maintain an accurate device inventory. Not only do TEM services eliminate some of the burden for your IT and Finance departments, they provide the tools required for strategic C-level technology decision-making. Most organizations do not know their total cost of ownership (TCO) or the number of zero use devices in their mobility ecosystem. Zero use is a primary driver of unnecessary expense which can quickly be eliminated when working with an experienced MMS partner.
Top TEM solutions automate and optimize processes from invoice management to payment. In a dynamic communications environment governed by complex contracts, an automated invoice validation system is necessary to prevent overpayment and ensure network portfolio accuracy. TEM applications track invoice receipts, maintain records online in an easy-to-query format, and validate invoice charges against contractual terms and inventory. When an invoice that does not match expected inventory Monthly Recurring Charges is detected, TEM applications are designed to dispute invalid charges or update valid changes to the network portfolio.
Finance and Accounting departments are being asked to process more vendor invoices with less staff on hand. To alleviate some of these demands, it is important to track and reconcile vendor payments along with the rest of the communication lifecycle management processes in order to maximize efficiency and cost savings. Some TEM solutions also allow you to integrate payment files with Account Payable systems to automate invoice allocation, end-of-month accrual, and run reports to get an accurate picture of communication costs across business units, cost centers, and GL codes.
Learn more about Sakon's TEM solutions to reduce the expense and complexity associated with managing telecom and enterprise mobility at your organization.
Evaluate Your Mobility Ecosystem:
How is your organization handling telecom expense management?
Does the burden fall primarily on the IT or finance department?
Is your organization automating invoice validation and payment to identify cost-saving opportunities?
End-user experience is perhaps the most important element of the mobility management ecosystem. After all, you are making all of these investments to empower your employees and minimize your internal IT burden! User experience refers to a variety of factors, such as the ease with which employees can obtain and replace devices, the support they receive from the organization when something breaks or malfunctions, the range of applications at their disposal, the security of their data, and the flexibility of the organization from a device-ownership perspective.
Until now, most large enterprises have managed to get by with sub-optimal tools and siloed methodologies to achieve mediocre results. These organizations typically outsource IT help desk services to overseas call centers in order to minimize costs, which creates an inconsistent and frustrating UX. Employees often wait for days, if not weeks, to receive replacements, upgrades, or stipend reimbursements. These delays prohibit them from working remotely, diminish their productivity, and may even interfere with their client relationships.
Given the critical importance of the user experience in the mobility ecosystem, many organizations have chosen to work with an MMS provider that can take over mobility helpdesks to streamline customer support. MMS software is designed to manage and simplify support services across the mobile lifecycle, from procurement and fulfillment to program optimization. The goal of working with an outsourced provider is to create a smooth, flexible mobile work environment for employees while minimizing costs.
A self-service mobility app allows employees to order new devices or request device repairs without going through a helpdesk at all. By automating and optimizing routine processes, such as device approval or stipend payment requests, your organization will reduce both service costs and employee wait times. As mobility management ecosystems become more complex, involving a broader range of device types and carriers, employee expectations will continue to rise. This is especially true for organizations looking to transition to a BYOD or hybrid mobility model, both of which are much more difficult to manage. Instead of letting your employees down or undertaking outrageous service costs, invest in infrastructure that simplifies the process by putting the power of mobility management directly into the hands of end users.
Evaluate Your Mobility Ecosystem:
What is your organization's current approach to the end-user mobility experience?
Are your employees satisfied and empowered to do their best work?
Can you identify any inefficiencies?
We have discussed the role of an organization's IT department in the mobility ecosystem throughout this piece, but it deserves its own section since it is an area that most organizations overtax. Many organizations continue to rely on their internal IT department to manage their mobility ecosystems despite the substantial cost savings and optimizations associated with outsourcing. Depending on the management software you have in place, IT responsibilities can range from device approval to inventory management to corporate compliance, many of which involve time-consuming manual processes that hurt the department's overall productivity.
Let's break down some of the tasks that are probably slowing down your IT department as we speak. To begin, IT members are often responsible for procuring, approving, and upgrading mobile devices and applications. Departments overseeing thousands of employees are bombarded with requests daily, and often repeat the same manual process for hours on end. Once those devices and applications have been deployed, IT staff often deal with compiling and organizing inventory data and reporting on usage across business units and teams. This inventory management and reporting step is critically important, as organizations need to achieve complete visibility into their mobile fleet across carriers, device types, and geographies in order to optimize their mobility management program. Not only do IT teams typically lack the necessary infrastructure to keep an accurate device inventory, but this process can easily be automated to free up valuable resources. A common misconception regarding mobile device management (MDM) software is that it is meant to take care of inventory management. As mentioned previously, MDM is a critical aspect of mobility management, however, it is not designed to efficiently record inventory changes, store contracts, and track employee stipends. IT departments that rely on MDM software alone for inventory purposes are missing important data points and cost-saving opportunities, lacing true telecom expense management capabilities. Across the board, IT departments are often responsible for processes that can easily be automated to eliminate human intervention -- if given the right technologies.
CIOs and heads of IT need to simplify and streamline mobility management processes so that staff can focus on more strategic, revenue-generating initiatives, rather than stay buried in time-consuming mobility tasks. It is best to work with an MMS partner that can connect the front-end user experience with back-end systems in order to reduce human error and bottlenecks. By partnering with an experienced MMS provider, you will eliminate the majority of tasks that currently fall on your IT staff, freeing them up to innovate.
Evaluate Your Mobility Ecosystem:
How much time is your internal team wasting on time-consuming, manual mobility tasks?
What systems do you have in place to ease this burden?
Now that you understand the different elements of the mobility ecosystem and how they interact, take a look at your current mobility management strategy:
Do you have complete visibility into every area and process discussed above?
Are your employees' devices and applications secure and compliant?
When was the last time you renegotiated a service contract to drive down costs?
Are your employees satisfied with your device ownership model and customer service?
Is your internal IT team overtaxed and overburdened with manual processes that would be better managed by an experienced MMS provider?
If any of these questions are giving you pause, it's time to re-evaluate your mobility ecosystem and consider working with a partner that can better manage your work environment.
Request a consultation with the Sakon team to better understand your mobile device management needs and discuss areas of optimization.