For Immediate Release
Sakon Recognized as 2022 Telecom Vendor of the Year
Prestigious 2022 AOTMP® Vendor Awards recognize innovation and excellence amongst vendors involved with providing products, services, and solutions to external customers.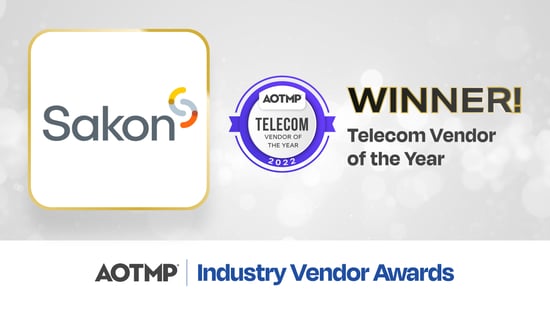 CONCORD, MA – August 1, 2022 – Sakon, the leading platform and services provider for understanding, managing, and transforming enterprise communications, has been named the 2022 Telecom Vendor of the Year by AOTMP. The award recognizes the telecom vendor, supplier, or service provider delivering the most compelling business impact to customers.

Sakon's selection comes at a challenging time for the telecom expense management (TEM) industry. While over $4 trillion is being spent globally on telecom, IT, and mobility products, services, and solutions, uncontrolled spending and waste remain features of the system. And with options for buyers changing all the time, customer churn is a stubbornly frequent reality. TEM is a vast, complex, confusing landscape and most traditional TEM service providers have failed to keep up with ever shifting customer needs.

As Telecom Vendor of the Year, Sakon is at the vanguard of change. The company is successfully repositioning telecom and mobility management functions as drivers of business results, ensuring that buyers see value in TEM beyond "expense management." As such, it excels at managing the complete lifecycle of telecom services, integrating with complementary platforms, and working effectively with critical stakeholders. Deep relationships and lasting partnerships have been the result.
"Sakon is aiming to change the industry through a trust-oriented partnership style built on a service-centered SLA/XLA framework," said Andrew Goorno, Sakon's Chief Executive Officer. "To succeed in this space, you've got to know how to execute, especially at a time of rapid change. We deliver on our promises by putting the customer's business outcomes first. And while we're forging relationships, we've maintained a long-term focus on engineering excellence and innovation enabling us to deliver the technology and the world class services practices worthy of Center of Excellence status."

Sakon is pushing TEM forward through a combination of Telecom Service Management, Automated Expense Management, Strategic Cost Optimization, and Vendor Performance Management. This holistic approach helps improve business outcomes and asset performance, provides better visibility and control of assets, and reduces cost for communications services under management.
"We digitize, automate, visualize, and source in ways others simply haven't figured out how to do," added Dan Hughes, Sakon's President. "We're enabling infrastructure and operations with data and digital workflows to provision and support the network. We're empowering IT finance
and procurement to manage and reduce connectivity spend through automation. And we're providing IT procurement the data and tools to streamline the source-to-contract process."
As a new kind of TEM emerges – catalyzed by dynamics such as platform automation, technology simulations, and data analytics in pursuit of simplifying device and telecom service management – more companies are pressing TEM vendors to provide full life-cycle management for end-user devices and managed mobility services (MMS) integration. Sakon Mobility offers that capability on a global scale, complementing Sakon's TEM expertise.

Timothy C. Colwell, AOTMP® Executive Vice President, said, "The accomplishments of this year's AOTMP® Vendor Award winners, both company and individual, demonstrate undeniable business results and compelling value propositions across the board. These outstanding individuals, vendors, suppliers, and service providers are making an impact in the telecom, mobility, and IT management industry."


About Sakon:

Sakon helps enterprise clients in a wide range of industries manage Communications Services and the Modern Device Lifecycle more efficiently. The company's Telecom and Device solutions reduce operational costs, increase insights and optimize financial performance through a cloud based platform that connects organizations with suppliers globally, automates workflows and optimizes services. Founded in 2003 and headquartered in Concord, Massachusetts, Sakon has over 900 employees with offices in the United States, Canada, the United Kingdom, China, Singapore and India. For more information, go to www.sakon.com.


About AOTMP:

AOTMP® is a global organization, empowering professionals in the dynamic $4+ trillion telecom, mobility and IT management industry. AOTMP® delivers value through training, certifications, association memberships, events & programs, best practices, publications, resources, and professional development. For more information, go to www.aotmp.com.