Driving Business Outcomes: A Sakon Accountability Scorecard
Asking the Right Questions
Sakon's John Venditti, Senior Vice President, Client Services and Delivery, has a passion for driving results. That was made clear when he took the stage at "Sakonnected 2022," reminding the audience that every department, from Client Services to Operations, is encouraged to ask questions that further customer outcomes.
John wasted no time rattling off a series of key queries every member of the team must ask themselves every day:
WHY is the customer asking Sakon to do something?

WHAT specific outcomes is the customer looking to achieve?

HOW does Sakon align itself with those outcomes?
This leads to an additional question – how well did Sakon do in furthering customer outcomes in 2022?
Sakon ranked at the top of Gartner's Peer Reviews for Customer Satisfaction. John showed that across 26 surveys, Sakon ranked an average of 4.6 out of 5.
from Client Services to Operations and Legal and Sales. Everybody at Sakon is helping drive a superior CX. And 64% of respondents ranked Sakon as 5 stars. Service and Support got 4.8 out of 5 stars. Service Capability ("How good is the Sakon product?") got a 4.5 out of 5 stars. Awesome results.
Clearly this is a company that holds itself accountable for achieving results for customers. Despite (and perhaps because of) the many unique challenges of the pandemic era, Sakon has become the most collaborative and proactive player in the industry. And John produced a detailed "Scorecard" to provide further proof.
2022 Scorecard:
Delivering for Customers
Visibility and collaboration are essential characteristics in making any partnership work. In that spirit, Sakon prides itself on being a trusted partner to customers, meeting with them regularly to understand their business, their challenges, and the objectives they're trying to achieve. It's important for Sakon to show the expertise and domain knowledge it brings to partnerships while also demonstrating that it understands the outcomes and business goals each customer seeks to achieve.
In pursuit of this, in 2022, Sakon completed many strategic monthly and quarterly Business Reviews, demonstrating to the customer exactly how the operations, engineering, and product management teams were achieving success. In each case, Sakon demonstrated the value it was driving and how it was fulfilling customer goals and outcomes.
John also emphasized that while the Sakon sales team does the best job in the industry, it's at the implementation phase that Sakon consistently separates itself from the competition.
The implementation phase offers the customer a first impression, it's a chance for Sakon to show precisely how it values a collaborative partnership built on understanding that customer. It's where Sakon can build and execute a comprehensive plan to deliver. Such an approach is unique in the industry.
2022 Scorecard:
Evolving to Drive Customer Outcomes
John also reminded the audience of 800-plus colleagues that in December, 2019 – shortly before the onset of the global pandemic, lockdowns, and the rapid deployment of the work from home model – he was talking about fostering collaboration as a means to better understand exactly what each customer is asking for and why. By aligning a set of key deliverables with a customer's specific set of needs, Sakon reaches for what John called, "that golden customer experience" on behalf of each and every customer.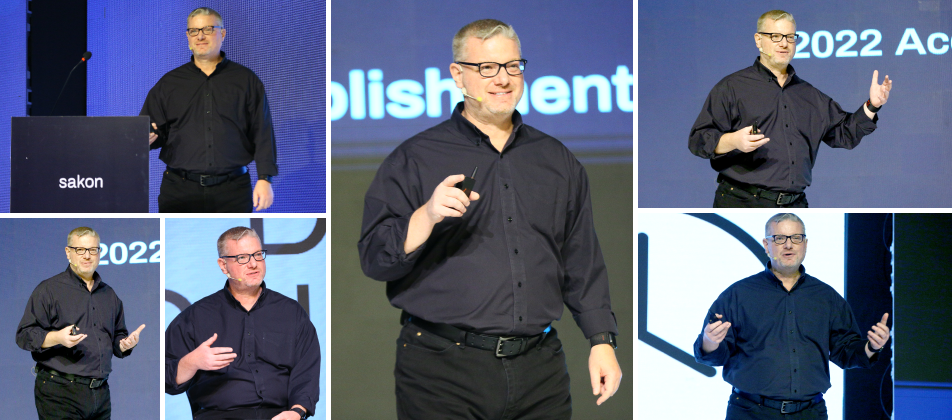 John then made clear there are two types of customer experience – the External CX (for Sakon customers), and the Internal CX (internal customers in the form of Sakon colleagues). And the latter influences the former in profound ways. In 2022, that Internal-External CX philosophy was embraced across the entire organization, with teams transitioning from a relatively narrow mode of thinking pre-pandemic to recognizing the importance of the Internal CX for the External CX.
Such a collaborative engagement style makes all the difference for customers
(ie, the Engineering, Deployment, Client Services, Operations, and Administrative teams working together to figure out how to improve every customer's particular lifecycle).
2022 Scorecard:
Standardizing Processes for Customer Success
Customers also have a desire to evolve, standardize, and automate such that they can replicate and scale every process, and Sakon is helping them do it. Operational features and toolsets have been improved such that Sakon is now tracking a much wider and deeper pool of data, aggregating many more datapoints into the system. That in turn allows Sakon to do much more on behalf of each client, such as run analytics, do trend analysis, and understand what is working and what needs to change in order to improve.
Today, throughout every process, everything is shared with the customer, including a new and improved, automated, and standardized SmartSheet that now generates its own scorecards and trackers.
In effect, so much of the Internal CX is about identifying and sharing operational and managerial metrics. It's a way for Sakon to better manage outcomes for the customer. That process provides a window into what John terms, "Customer Success." By standardizing processes, Sakon has created a superior customer experience for all.
2022 Scorecard:
The Pursuit of Systemic Harmony
John also introduced the term "Systemic Harmony" to capture how and why Sakon looks at the whole process rather than pieces of the process.
This holistic approach comes about by aligning teams, cross-team collaboration, process and tool sharing, and companywide visibility into customer outcomes. Sakon has even instituted cross-department internships to foster the kind of collaboration company leadership demands (eg, people in Inventory can spend time in IP, etc.). It's just one approach that helps bring about full visibility and drive customer outcomes.
Sakon also has instituted detailed operational SOPs (Standard Operating Procedures) for every process. This allows Sakon to tell a client, "Here's what we're going to do, here's how we're going to do it, and here's when we'll do it." Thanks to these SOPs, after Sakon executes on a plan, it's able to precisely measure how it did. By documenting and detailing every key detail, the company has been able to align customer deliverables and better understand outcomes. It makes for the ultimate kind of alignment with the customer.
Advanced SLAs (Service Level Agreements) also have been standardized, normalized, and operationalized. This in turn provides the organization the ability to manage success across all customers. Operational dashboards, system and process controls, and automation are key parts of that process. These advanced SLAs are a real differentiator in the market.
2022 Scorecard:
From Product Dominance to Service Dominance
Finally, it's important to note that
Sakon was just recognized as 2022 Telecom Vendor of the Year.
This recognition reflects the fact that Sakon really understands what enterprises are going through. Consider that more often than not, when Sakon brings on a new customer, that company already has been through three or four TEM vendors. These companies have been "put through the wringer" and know exactly what doesn't work; they then turn to Sakon to drive performance and outcomes as a truly consultative partner.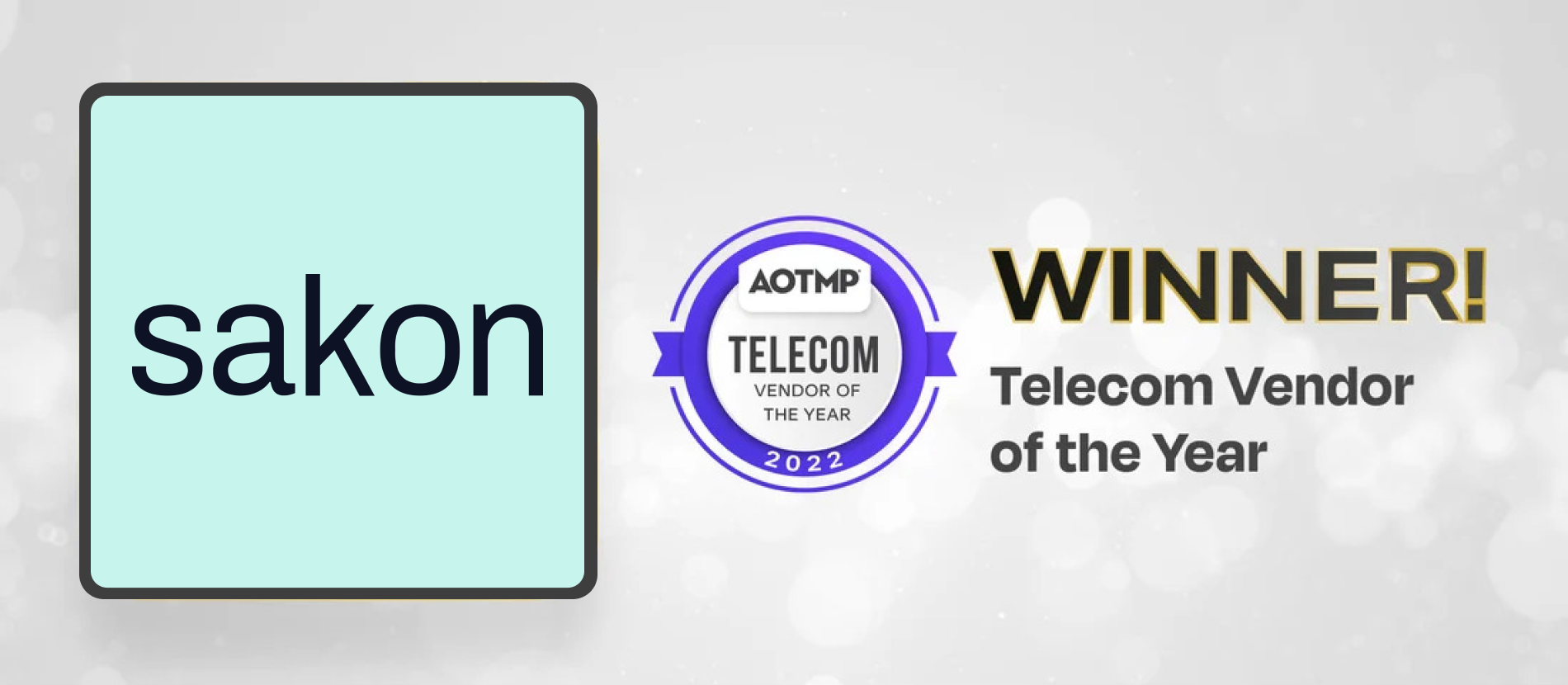 John ended his presentation on a high note indeed. Large-scale global deployments demand competence, professionalism, visibility, and flexibility. The aforementioned Gartner Peer Review results reflect just how Sakon exhibits all those qualities. For John, having customers come out of implementation "thoroughly excited to be part of the Sakon family," makes the ongoing relationship that much more successful for everybody. It redefines what "TEM" actually means.