Understanding the Total Cost of Ownership (TCO) of the Corporate Mobile Estate: Part 2
Welcome to the second chapter in an eight-part series on "Understanding the Total Cost of Ownership (TCO) of the Corporate Mobile Estate" brought to you by the Sakon Mobile team. In part 1 we looked into the different component services of device procurement and discussed how decisions that the enterprise makes can affect the cost of service delivery and mobile enablement. In part 2 we will focus on evaluating the impact that Forward and Reverse Logistics can have on the TCO for mobility, as well as the productivity and cost benefits that can be delivered through a managed service provider's logistics.
When evaluating device logistics as part of a Managed Mobility Services engagement, enterprises should pay careful attention to the following service elements:
Forward Logistics

Device Staging
Device Kitting

Reverse Logistics

Device Repair/Return
Device End of Life

Operational Speed and Efficiency
As any organization with mobile employees knows, Forward Logistics is a critical component of mobile enablement. Forward Logistics are broadly defined as the set of services required to prepare a mobile device for enterprise use by a mobile employee. As part of a Managed Mobility Services (MMS) engagement, Forward Logistics will include some or all of the following services:
Device Staging: the process of configuring the device according to the specifications established by the enterprise. In many instances this can be as simple as enrolling the device in the Unified Endpoint Management (UEM) or Mobile Device Management (MDM) environment and pushing the configuration (policies, applications, settings, etc.) to the device via the UEM/MDM. While Apple's Device Enrollment Program (DEP) and Android Zero Touch have simplified this process to the point where many enterprises feel comfortable sending devices directly to end users with a simple set of instructions, large scale device deployments benefit from being able to leverage a dedicated staging environment capable of addressing hundreds of devices per hour. In almost all deployment scenarios, end users and IT staff alike can benefit from Sakon's Mobile App, which simplifies the employee onboarding and device enrollment process immensely.

Note: in situations where device staging requires two or more service providers to work together, service orchestration becomes a critical component of process. Enterprises should work closely with their MSP to determine how the device procurement request is communicated to the staging facility and whether or not the proposed process introduces unnecessary delays. If the two service providers do not work within the same platform to fulfill the request, clients should look carefully at the integration points between the two platforms to make sure that the process will be able to meet end user requirements within the desired time frame. Sakon's approach to service orchestration is to use bi-directional API integration to share information with service providers that are downstream of the device request. This approach ensures that information sharing occurs in near real time and doesn't introduce unnecessary delays or inefficiencies to the process. Effective service orchestration allows each MSP to focus on their core competency while being able to take advantage of partner capabilities in a seamless and scalable manner.
Cost Questions:

Does your IT department have the skill set and infrastructure required to stage devices for the company?
Can IT support staging across different platforms (iOS/Android) and device types (phone, tablet, ruggedized)?
Is there a secure storage facility for spare devices?
Does your company have the proper level of staffing to ensure that device deployment doesn't take resources away traditional support activities?
Device Kitting: given that "mobile device prices are about three-quarters of the cost of a corporate laptop"[1], many enterprises are wisely choosing to make sure that devices are protected with a case and a screen protector before they are deployed to mobile workers. Device kitting also includes the packaging, usage instructions, corporate mobility policy and accessories (headset, stylus, etc.) with the device to ensure that the end user is supplied with everything required to perform effectively according to corporate mobility policy.

Note: Case providers will sometimes agree to cover the cost of break/fix repairs for a percentage of the mobile population that is using their product each year. With screen repairs costing anywhere from $149[2] for an iPhone 8 to $279 for an iPhone X, $239.99[3] for a Samsung Galaxy Note 10 to $289.99[4] for a Google Pixel 4, covering even a small percentage of devices in this manner can provide a significant reduction in mobile TCO, especially given that device breakage rates can range from 5% - 10% (Gartner lists "Casing or screen breakage" as the primary obsolescence factor for smartphones.[5])

Cost Questions:

Does your IT department have enough personnel to support device kitting without negatively impacting higher value support activities?
How does the IT department track and maintain inventory and asset information as devices and accessories are distributed to remote end users? Does this information end up in the ITSM platform?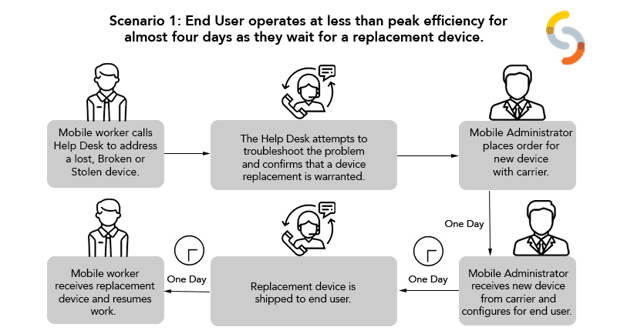 Figure 1: Reverse Logistics include the device replacement process, which can present additional TCO reduction opportunities.
While Forward Logistics play a major role in enabling the modern mobile workforce, Reverse Logistics have traditionally been seen as optional or altogether unnecessary and are rarely afforded the same level of attention and planning. For the majority of enterprises this represents a missed opportunity to reduce the TCO for mobility, given that services such as Next Business Day (NBD) device replacement and end of life device recovery and monetization have an enormous impact on the true costs of enterprise mobility.
Reverse Logistics are defined as the services required to recover devices from end users, either at the end of life for the device or during the break/fix process. In a standard MMS engagement, Reverse Logistics will include some or all of the following services:
Spare Pool: industry best practices dictate that companies that depend on a mobile workforce should be prepared for end users to experience lost, broken or stolen devices. In a standard corporate environment, a pool of 3% - 5% of the device population should be stored in a facility that is capable of rapidly staging, kitting and shipping devices to accommodate NBD device replacement. Different use cases, such as those involving ruggedized devices, work in especially harsh outdoor conditions, or devices in retail locations can increase spare pool requirements. Most industries can expect to see up to 5% of the mobile population request a replacement device each year.

Cost Questions:

Are employees supplied with a new replacement device or a refurbished replacement device?
Are repaired devices added back into the spare pool for future use?

Device Repair: as any mobile employee knows, there is never a "good" time to experience a broken screen, cracked case or uncooperative battery. With 5% - 10% of a mobile population experiencing break/fix/repair events (that compromise employee productivity) annually, the most important part of the repair process is enabling a mobile employee to return to full productivity as soon as possible. Using a Managed Service Provider (MSP) such as Sakon for NBD device replacement eliminates unnecessary delays and minimizes lost productivity.



Device Insurance: After the immediate needs of the employee have been met thanks to the spare pool, there are still several important TCO decisions for the company to consider. Many enterprises look at the value of the devices that are being deployed and see device insurance or enterprise support plans, whether from the OEM or carrier, as a prudent option. In many cases, however, companies can leverage the Sakon Mobile platform for spare pool management and deploy a limited number of new and refurbished devices as needed at a much lower TCO. Consider the following example for an enterprise with 2500 devices that has standardized on the iPhone XR 64 GB, available directly from Apple for $599, where using refurbished spares in "excellent" condition and OEM certified repair providers enables them to save almost $8,000 per month as opposed to solutioning OEM Warranty Support.[6]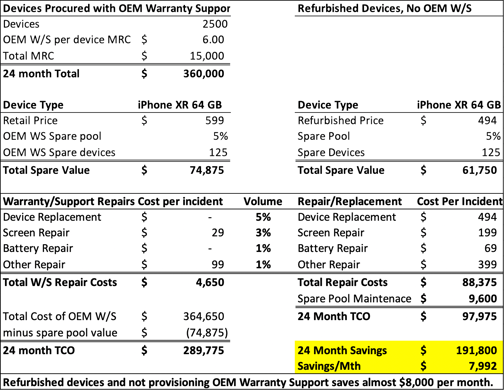 Figure 2: Comparison of the TCO of OEM Warranty Support to managing a spare pool of refurbished devices.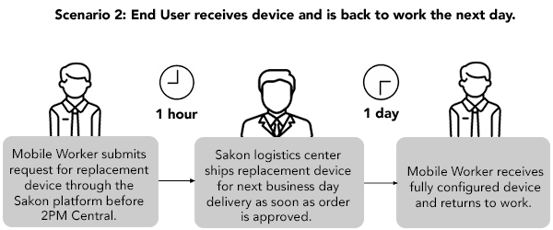 Figure 3: Sakon's NBD device replacement minimizes employee down time.
Process Automation and Delivery Speed: According to Gartner, "an adequate [device] replacement cycle will prevent lost productivity".[7] This statement is especially applicable for a mobile enabled workforce. Consider the example from Figures 1 and 3 above. Without a spare pool and NBD device replacement, a mobile employee must wait between 2 and 4 days to receive a fully functional replacement device. Given a scenario in which a fully loaded FTE costs $75,000 per year and experiences a 40% drop in productivity during the device replacement process, the difference between a 3-day device replacement cycle and NBD device replacement can amount to $230 in lost productivity per employee device replacement. With a population of 2500 mobile devices and assuming 10% of the devices require replacement or repair annually, Sakon's NBD device replacement can reduce lost productivity by as much as $57,000 annually for a population of only 2500 devices.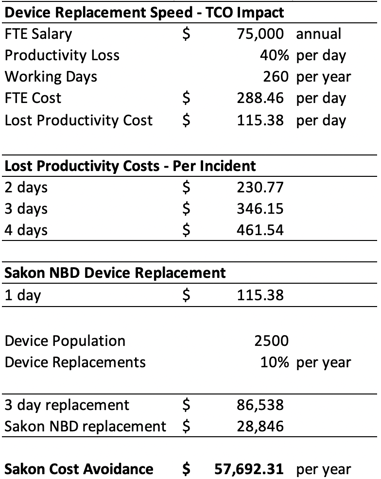 Figure 4: Lost Productivity Cost Avoidance

Cost Questions:
How long does it take to get a fully configured and kitted device to an employee who needs a replacement device?
How does an employee initiate a device replacement request?
Is the replacement device approval process automated? How long does it take to get the necessary approvals for the replacement device?
From the examples given above, it is clear that the manner in which a company addresses logistics can have a major impact on the TCO for enterprise mobility, even for relatively modest device populations. A well-executed logistics strategy is therefore critical to both avoiding the cost of lost productivity and recouping a substantial portion of the initial device investment. Using the examples discussed previously, our hypothetical enterprise would have reduced its mobile TCO by more than $270,000 in just 24 months. Distributing this cost impact across the entire device population results in a TCO impact greater than $4.50 per device per month or approximately $109 per user over 24 months.
Implementing a Formal Return Policy with Reverse Logistics: $157,150 Additional Revenue
Reducing Lost Productivity with NBD device replacement: $115,384 Cost Avoidance
Next, in Part 3 of "Understanding the Total Cost of Ownership (TCO) of the Corporate Mobile Estate," we look at Cost Impacts of Device Disposal and Recycling.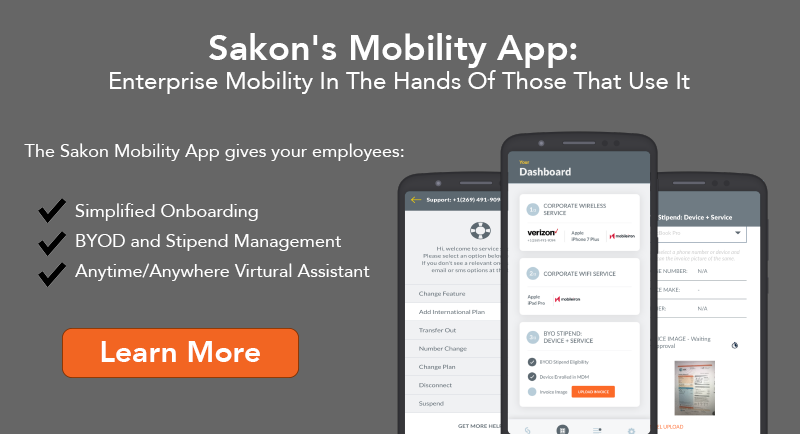 Appendix:
Assumptions for OEM Warranty Support calculations:
Both populations would require staging and kitting prior to being sent out to end users
Spare pool maintenance cost would apply to refurbished device pool at $400/month for 125 devices
Shipping charges apply to both populations
OEM Warranty Support includes 5% device replacement over 24 months[8]
While OEM Warranty Support does include NBD onsite support in some locations, it is more efficient to simply replace the device via NBD shipping and send the broken device out to be repaired.
Carrier device protection options are even worse – take for instance one major American carriers phone protection plan which costs $6.85 per month for an iPhone XR 64 GB, has a replacement deductible of $199 and a cracked screen repair deductible of $29 per incident!
[1] Gartner "Cost Optimization Opportunities for Mobility Services and Devices are Emerging" ID: G00381743, Katja Ruud et al, June 20, 2019
[2] https://support.apple.com/iphone/repair/service/screen-replacement
[3] https://www.ubreakifix.com/samsung-repair/samsung-galaxy-note-10-repair, retrieved 10/24/19
[4] https://www.ubreakifix.com/google-repair/google-pixel-4-repair, retrieved 10/24/19
[5] Gartner "Use These Recommended Life Spans to Guide Mobile, PC, and Other Device Replacement Strategies" ID: G00350411, Stephen Kleyhans and Frederica Troni, April 12, 2018
[6] https://www.apple.com/shop/buy-iphone/iphone-xr/6.1-inch-display-64gb-white-unlocked
[7] Gartner "Use These Recommended Life Spans to Guide Mobile, PC, and Other Device Replacement Strategies" ID: G00350411, Stephen Kleyhans and Frederica Troni, April 12, 2018
[8] "Apple will make available an iOS Service Device Pool to the Enterprise consisting of iOS devices (iPad, iPhone, and iPod Touch) ("iOS Devices") that are new or equivalent to new in performance and reliability, the total number of which shall not exceed 5% of the total number of iOS Devices that are Included Devices under the Service Plan, https://www.apple.com/legal/sales-support/applecare/applecareforenterpriseen.html