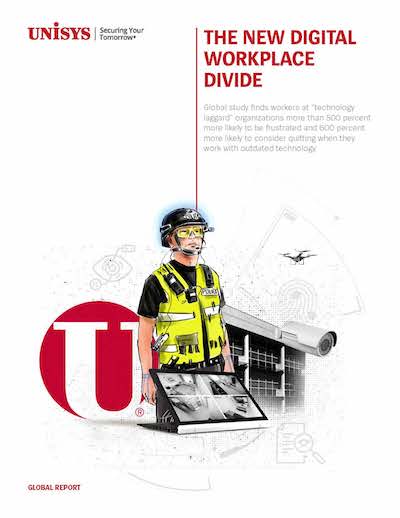 Our partners at Unisys have just published a comprehensive study on the digital workplace divide. Done globally with over 12,000 workers surveyed in 12 countries, it provides some fascinating insights into the relationship between technology adoption by the enterprise and worker satisfaction and productivity.
The report documents the growing divide between technology leaders and technology laggards. Being behind on the tech curve leads to a frustrated workforce. Over 51% of digital workers at the laggard organizations expressed this frustration, versus only 6% of those at leading enterprises. 89% of workers at leader companies feel good about their jobs, versus 15% at less technically advanced organizations. Higher turnover is the result, especially in a full employment economy, which is extremely costly.
One of the more interesting data points was that workers use the technology that will do the job, even if it's not company supported. For example, 56% of workers use smartphones for work, but only 21% are provided a smartphone by their company. At Sakon, we've seen the pendulum start to swing back towards bring your own device (BYOD) lately, but BYOD is only successful with the proper governance measures in place, like having an MDM client on the device to protect corporate data, and the right management tools in place, like mobility managed services (MMS), to streamline procurement, provisioning, and payment.
Among the other risky behaviors cited in the report, 55% of workers surveyed downloaded apps and software not supported by their organizations, Again, governance and centralized cost management are key. Enterprises have to have and enforce policies about the use of SaaS services. This is important not only for security, but for expense control as well. It's easy to discount the scale of the issue, given that many of these subscriptions are only a couple of bucks a month. But when hundreds or thousands of employees start doing it, with not 1 or 2, but 7 or 8 different applications, each "a couple of bucks a month" snowballs into a big chunk of IT spend without the knowledge, let alone approval, of IT. (If this scenario rings true to you and you are interested in getting in front of the SaaS management challenge, check out our recent webinar with Amalgam Insights on the subject.)
It's probably not a coincidence then that at the laggard organizations workers cite getting better devices as their priority to improve the work environment, but at leading organizations workers cite security. Or, put another way, when you're not fighting the temptation to throw your laptop into a wall, you can focus on more strategic concerns.
Another concern for IT security folks is that 66% of digital workers reported using security workarounds, like e-mailing files to themselves. The fact that Unisys reports the average cost of a data breach was over $3M per incident brings that up a notch.
The report is full of these data points and is well worth a read. Again, you can download it here.