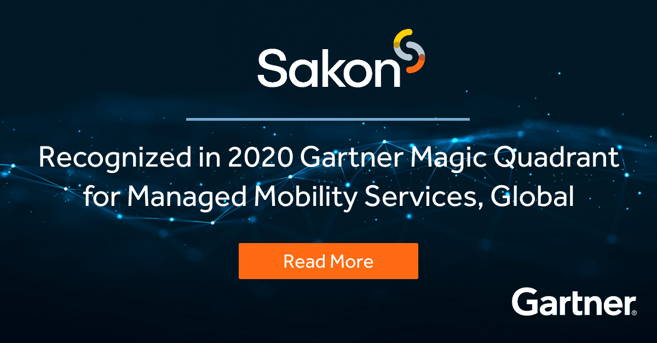 I was excited to see that Gartner included Sakon in the Magic Quadrant for Managed Mobility Services (MMS). The quadrant incorporates 14 players in the MMS industry, and we are excited and honored that Sakon was included in this illustrious group. In this blog, I wanted to discuss the concept of "service orchestration" which Gartner mentions in their Sakon write up.

The concept of service orchestration is an important one that gets to a core tenet of the Sakon Mobile platform - a solution designed based on customer feedback to address enterprise mobile management challenges. As a device goes through its lifecycle from acquisition to ongoing support to end-of-life, there typically are multiple vendors and systems engaged to provide a complete set of services. Unfortunately, these vendors are often siloed resulting in complex and highly manual reporting and management. The concept of service orchestration breaks down these data silos to provide one source of truth across vendors, devices and carriers to dramatically simplify and enhance manageability, compliance and reporting. An example could help clarify.


Steps To Take When Provisioning a New Phone/Plan
Let's look at the steps that often take place when provisioning a new phone/plan for an employee and the vendor/provider that enables each step.
New phone selected from a catalog (Carrier or partner)
Appropriate approval and budgetary workflows for the phone (Unclear vendor)
New plan selected (Carrier or Partner)
New phone is activated (Carrier)
Appropriate cost center is applied (HR System)
Phone is added to IT asset management system (ITAM)
MDM installed and configured (dedicated MDM system)
While this example focuses on a mobile device, the real power of service orchestration is its universal applicability. Enterprises have invested in a multitude of mobile technologies like smartphones, laptops, wearables, mobile scanners, mobile printers, IoT and many others. While these devices typically have different support and repair paths, they still require complete lifecycle management from initial implementation to end of life.

The Sakon Mobile platform is modular and flexible and it can support virtually any device. It integrates data from disparate environments such as carrier systems, MDM systems, HR systems, ITSM systems, IoT Systems and ServiceNow and provides the ability to push and pull data between them to provide one source of truth and dramatically simplify the management process.

These integrations extend to internal systems as well. Many companies have invested in their own infrastructure such as self-managed spare pools and internal help desks. Sakon can seamlessly both external and internal systems to allow companies to maximize existing investments.

A key benefit of Sakon service orchestration is user self-service. By providing one source of truth for all data and processes, Sakon Mobile empowers users. For example, when opening a support ticket, the Sakon Mobile app knows who you are and the devices that you use and so it will automatically route your case to the right support channel. As a result, your experience will be fully customized and optimized for your device and support level. The same flexibility also extends to visibility and account control. Users get instant access to their device information, mobile plans and the ability to upgrade or modify phones/features in an intuitive and business process compliant manner.


One of the most exciting breakthroughs of Sakon service orchestration is that we are vendor agnostic. For example, we count the two leading MMS vendors as our partners who deliver their MMS services using the Sakon Mobile platform. These partnerships extend beyond MMS vendors and include leading MDM manufacturers, finance companies and enterprise systems such as ServiceNow.

* * *

We are honored that Gartner chose to include Sakon in the 2020 Magic Quadrant for Managed Mobility Services. We are also excited that Gartner has highlighted our service orchestration capabilities as we believe that this is an important differentiator for us in the market.