Breaking Down the Silos of Mobility Management
Mobility is a key part of today's enterprises. Only a few years ago, mobile phones were delivered to a select few due to cost and complexities, and in this simpler world, the choice of devices were limited and acquisition costs were low. Today, everyone has a phone whether it is corporate-owned, BYOD or some combination of the two, and phone options have exploded with the pricing of some models exceeding that of laptops. This has forced companies to rethink their mobility strategy to ensure that they are delivering the cost, simplicity and end user experience that users expect. Unfortunately, customers rapidly realize that they are running into a problem of siloed tools.
Managing devices throughout their lifecycles can be complex and a myriad of vendors have arisen to deliver solutions to expedite management. For example, there are vendors who provide helpdesk services, logistics, financing, recycling and break/fix as illustrated in this graphic.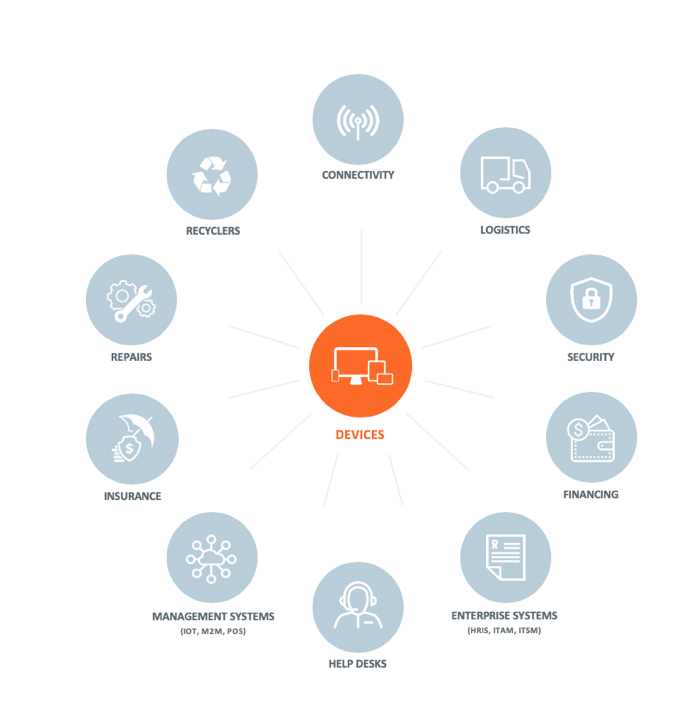 It seems obvious, just contract with one vendor for each area and you have solved the problem, right? Well not so fast, every vendor operates in its own silo. What does that mean for administrator and user experience? For example, let's say a screen is broken, who do you call? The help desk? The phone manufacturer? The warranty provider? The carrier? And once you find that person how does the repair process get handled? Who troubleshoots the problem and then determines the steps to resolution including sending a spare, fixing the screen, copying data and other relevant actions? Oh and should different employees get different treatment? (e.g. should you handle a CEO's broken phone different from a store clerk's?)
Pro tip: Service levels should differ and delivering an amazing end user experience requires one interface to simplify and standardize interactions. Remember Jay's first rule of customer service – the more complex a process is the more costly, unreliable and frustrating it becomes!
The challenges described above are compounded by another problem - information silos. Typically, enterprises have multiple systems that they use to manage mobility including:
HR system used to track employees and their seniority and mobility eligibility
MDM solutions installed on devices that gather information about the device and usage and enforce appropriate security policies
Carrier systems which provide details on individual plan usage and costs
IT Asset Management systems which typically track phone purchases and usage
Device specific management systems like Android Enterprise or Apple's Device Enrollment Program
I am certain that you will find three or four of these in use in your infrastructure, and yet, when you think about it, they operate in silos. Does your MDM system provide insights into carrier cost? Negative. Can you identify who has appropriate phone purchasing approval privileges in the ITAM system? Nope!
The simple reality is that silos exist and so the question is not whether you have them but how you manage them. The unfortunate answer is that most companies struggle because the process of managing multiple vendors is often highly manual in nature resulting in complex spreadsheets, phone calls and general frustration. All of this also results in high costs and poor end user experience which is just about the worst combination you can imagine!
There is a better a way. The ideal solution incorporates what I call "Mobile Orchestration." You need a platform that can integrate information from the IT silos into a single view. The platform must provide seamless workflows that enables end user requests to flow transparently between vendors relying pre-defined business rules and processes. A solution like this will simplify operation, reduce costs and improve end user experience. This is what the Sakon Mobile platform delivers.
Let's look at the broken screen situation with the Sakon Mobile platform. Once your screen breaks, you use the app on the phone (if it is still working) or go to a web portal and open a ticket to get your screen replaced. At that point, a workflow begins that ensures that the appropriate troubleshooting takes place, and then if it is indeed broken, a replacement workflow kicks off. For the CEO, maybe a pre-configured spare phone arrives the next day with a box to send the broken phone back for repair. For the clerk, perhaps it takes a few more days for the replacement to arrive and it is an older model, but the return box can still be included. Regardless, the entire process is orchestrated by Sakon Mobile and the device is tracked through every step of the break/fix/return process in a completely automated fashion.
Imagine how a service like Mobile Orchestration could radically simplify your life. No more spreadsheets, no more late-night angry phone calls, just a world of unending bliss…. Well, maybe I am getting ahead of myself with that one, but you can rest easily knowing that your mobile environment has been radically simplified.